Message from Principal Desks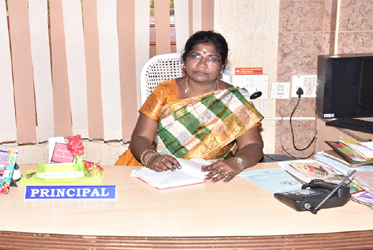 D. Karthiga Rani
M.Sc,M.phil,(Phd)
Principal I/C
N.M.S.Sermathai vasan is one of the leading self finacing college for women in Higher Education,founded and efficiently managed by Nadar Maha Jana Sangam since 1993 and it is affiliated to Madurai Kamaraj University, Madurai.
Semathai vasan college aims at empowering the rural woman and the first generation learners by developing human capabilities through Quality Education for Empowerment. Our purpose is to provide higher educational platform for students to excel in academic and life proficiency. The educational environment of the college is nurtured with highly acclaimed system of values imparting both individual and social values. Apart from specializing in relevant academic courses, students enjoy the best possibilities of developing global perspectives to face the challenges of life. The eco-friendly campus, contextually-based inclusive curriculum, student-centered teaching and learning pedagogies, avenues together most modern technological skill development provide ample opportunities for students for innovative learning and life empowerment.
In the part of our college mission offering excellent education for women, we are imparting Professional Attitude, Exemplary Extension, Academic Excellence and Competency Focused to the students. One with a Professional Attitude tries to leave her external concerns and cares once she enters the workplace. The students who become professional women need to be trained to develop this attitude. Exemplary Extension, the extension services rendered so far will be reviewed to make it exemplary in transforming the students to become socially sensitive citizens. Academic Excellence, the institution cultivates an environment, where the students excel, by surpassing or moving beyond where they begin each day. Competency Focused, the attributes and skills for each position are identified and the students are suitably trained for the position.
As the principal of this renowned institution, I thank and implore all of you – the Teaching and Learning Community, Parents and Well-Wishers, Alumnae and Friends of N.M.S.Sermathai Vasan College, to cherish its tradition and vision, and shoulder to realize the commitment of the college. Your co – operation and dedication will surely foster on-going higher educational achievements in favor of the learning community and society at large.I am delighted to inform that our college is stepping into NAAC.
With best wishes…